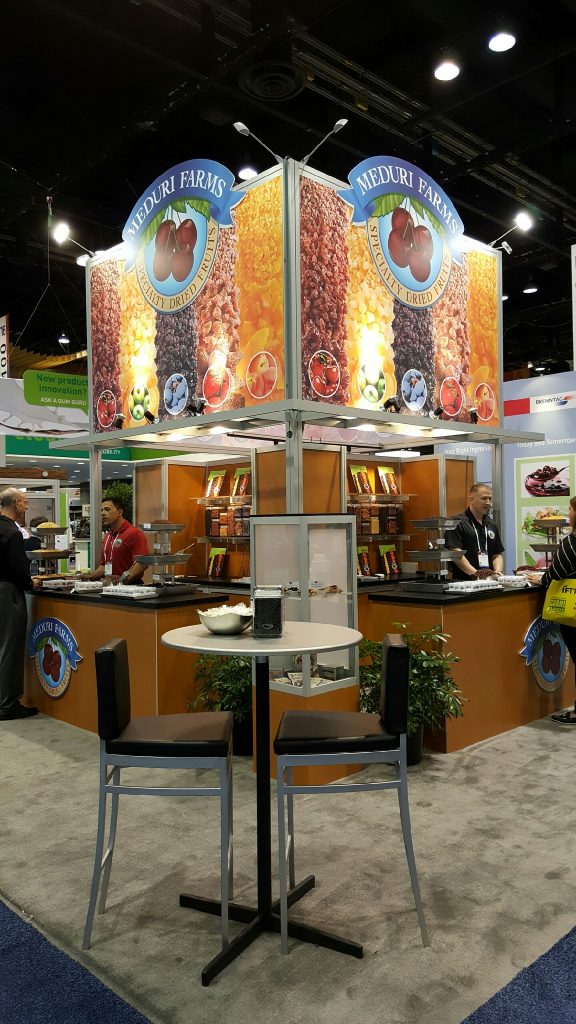 You never know exactly how new clients will find you. It could be from an introduction at a tradeshow. It might be from someone hearing a webinar that impressed them enough to make a call. It might be from an internet search or a referral. The Meduri Farms exhibit project came about thanks to an online search.
One of our most recent clients, Meduri Farms of Dallas, Oregon, found TradeshowGuy Exhibits through a Google search. Through a few months of back and forth to answer questions, the issuing of a Request for Proposals including a design from scratch, we ended up getting the project. It was awarded in March after a competition of four or five exhibit firms, and kicked off in April, finally making it's debut in July at the Institute of Food Technologists show in Chicago at McCormick Place.
Design was by Greg Garrett Designs. Fabrication by Classic Exhibits. The 20×20 structure was a combination of original design (the tower/alcove unit and product display unit) and rental (counters). The top section of the tower features SEG fabric images up to about a 15′ height which grabs eyeballs from a distance.
The 15′ tower is 9′ x 9′ with a meeting space in the bottom. Two sides are taken up by alcoves that display products and offer plenty of storage room. The roughly 10′ counters give more product display area and more storage for the oodles of samples handed out during the show.
According to Sara Lotten, Sales & Customer Service for Meduri Farms, management loved the booth and the results it brought ("that's beautiful!" was the comment passed along as the president first laid eyes on the booth at the show). Meduri Farms got a great number of positive comments about the booth. Comments are great, but results are more impressive.
"We got as many leads the first day with the new booth as we did all of last year's show. We ended up with three times as many leads for the show as last year," said Lotten.
Meduri Farms, Inc., founded in 1984 is a premier supplier of specialty dried fruits to food manufacturers around the world.
Check out our Meduri Farms photo gallery here.
Find out more about how you can get a new tradeshow booth here.