Fluent in Tradeshows
Punctual. Organized. Efficient.
CEO Tim Patterson
TradeshowGuy Tim Patterson: Author, blogger, Project Manager, Speaker, Trainer, writer, and all around tradeshow enthusiast
Buy an Exhibit
Choose from 1000s of exhibits. Customize to your delight.
Tradeshow Accessories
Graphics, cases, trusses, banner stands, table throws and more. See our online catalog here.
Request a Quote
Have a project in mind? Fill out our handy form and we'll get back to you promptly.
TradeshowGuy Blog
Noted as one of the "top 10 must-read industry blogs" by Skyline Exhibits, the TradeshowGuy Blog has been sharing tradeshow marketing information since 2009.
Tradeshow Success Book
Tradeshow Success: 14 Proven Steps to Take Your Tradeshow Marketing to the Next Level. If you want to make your next tradeshow a success, you need to read this book. Get your copy now.
TradeshowGuy Webinars
Join us for one of our free monthly webinars on how to do tradeshows right!
Full Service
From design and fabrication to I&D coordination, social media pre-show marketing and more
Choosing an exhibit house can be tough
If you're looking for an exhibit house, take a look at some of our videos to help you determine which works best for you:
How to Choose an Exhibit House
Looking for a new custom tradeshow exhibit, but don't know how to best choose an exhibit house that fits your marketing team and company to a T?
How to Know When It's Time for a New Booth
Your tradeshow booth may be getting a little long in the tooth. But how do you really know if it's time to invest in a new booth - or if it's more advisable to wait another year or two and simply upgrade your current exhibit property?
How to Sell the Boss on a New Booth Project
As the tradeshow marketing manager, you may recognize the need for a new tradeshow booth. But how do you convince the boss that it's really time - and that you can really afford it?
7 Questions You'll Never Ask Your Exhibit House
If you're looking to connect with a new tradeshow exhibit house, it's likely that you're falling short by not asking these seven questions.
How to Issue an RFP for a Booth Project
Sometimes you'll want to get a little more formal in your quest for a new booth and you'll decide to issue a Request for Proposal (RFP). This is a great idea - but there are certain guidelines you would be advised to follow.
Portfolio
What we've done - and what we can do for you!
Go Back
TradeshowGuy Exhibits News and Stuff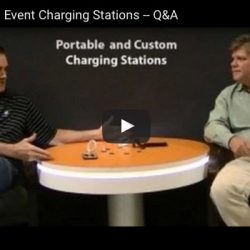 Mel and Kevin of Classic Exhibits answer questions about the very popular charging stations. There are a lot of reasons to consider adding a charging station – and maybe you've thought of a few. But what about customization, set-up, packing and shipping and more? Check out this interview and then take a look at our[…]
Previous
Next
Get in touch - call 800-654-6946 for Prompt Service!
Or email us now and we'll get back to you promptly: