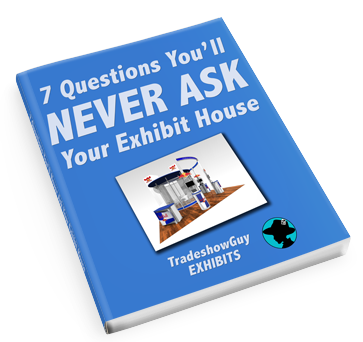 Thank you for your interest!
We've grabbed your information, whisked it to our superfast servers, done a bunch of supercool technical things, and within a few moments you'll be receiving a link to download your copy of the special report "7 Questions You'll NEVER ASK Your Exhibit House."
We're also adding you to our weekly newsletter list so you'll soon start receiving the "TradeshowGuy Marketing Newsletter" which we hope you'll at least give a try for a few weeks. If, for some reason, it isn't a good fit with you, don't worry: there's an unsubscribe link included in every issue. And if you do like it, please send it ahead to a colleague so they can enjoy it, too!
If you have a moment, we invite you to learn more about our company:
You're already on our main website at TradeshowGuyExhibits.com.
Next you might check out our blog, which has been called one of the Top Ten Tradeshow Industry Blogs by Skyline Exhibits and Trive: TradeshowGuyBlog.com. Recently Dio Experiential listed the TradeshowGuy Blog Number One in a list of the Top Six Trade Show Marketing Blogs. And the author of the blog and owner/founder of TradeshowGuy Exhibits, Tim Patterson, was recently featured in a big article in Exhibitor Magazine.
And of course, feel free to pick up the phone and give us a ring – we'll pay for the call! 800-654-6946.